Unique Experiences over Short Periods of Time that Educate, Entertain and Change
I've been lucky to call the culture sector my professional home for over a decade. I love developing new approaches to programming, marketing and audience building at theaters, museums, historic sites, zoos and aquariums across the globe.
A few favorite projects:
---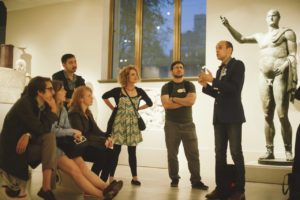 Museum Hack
During my tenure with Museum Hack, I grew from one of the first tour guides to the Director of Creative and Consulting. I developed Museum Hack's internal guide training program, built out all non-NYC locations, founded the Audience Development consulting wing, and advised on most major museum-based projects. At Museum Hack, I had the chance to work with some amazing organizations, including the National Park Service, Te Papa Tongarewa, California Academy of Sciences, National Museums of Norway, Los Angeles County Museum of Art and Roosevelt Campobello International Friendship Park.
---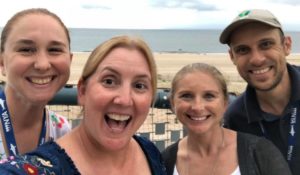 Wildlife Conservation Society
My zoo and aquarium home for over a decade! I've worked with the Live Interpretation department at the the Central Park Zoo, Bronx Zoo, Prospect Park Zoo and New York Aquarium, building interpretation programs, opening new exhibits managing touch pools, creating tours, training staff, and performing with their award-winning outreach program, Wildlife Theater.
---
Baruch College MA Arts Administration
I'm an adjunct professor with the Arts Administration program, teaching the foundational Audience Development course. My teaching style is heavily-based on professional development workshops – it's pretty active!
I was teaching my class at Baruch recently, when a student approached me with a question about a project they were working on for me. It was a program about viewing art through conversational, with key tips from their point of view. I asked them who their intended audience is. "Everyone," they said, brightly. "Interesting," …
Continue reading "An Audience of Everyone is an Audience of You"
Welcome, folks. Nice to have you here. If we haven't yet met, I'm Ethan, a culture explorer, facilitator, "museum guy" and experience hunter. I've been doing odd things in the culture sector for the last decade, from actor, to tour guide, to museum consultant, to professor, to whatever-the-hell this was. For the moment, I'm working …
Want to chat about culture things? Amazing! Fill out this form and let's find a time.